Recipes
Enjoy these delicious recipes and experience the
"power of the blues."
BLUEBERRY CREAM CHEESE DESSERT (our family's favorite blueberry recipe)
Serves: 12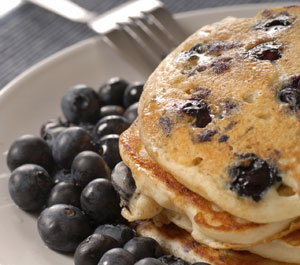 Crust:

1 cup chopped pecans
½ cup butter, melted
1 cup flour

Filling:

8 ounces cream cheese, softened
1 cup powdered sugar
8 ounces Cool Whip

Topping:

8 ounces Cool Whip
1 cup sugar, divided
3 tablespoons cornstarch
¼ cup water
Combine crust ingredients; spread in a 9X13-inch pan and cook for 15 minutes at 350°F. Cool.
Cream together the cream cheese and powdered sugar. Fold in Cool Whip.
Spread over cooled crust.
Combine ½ cup sugar and cornstarch in a saucepan. Add water then 2 cups of the blueberries. Cook over medium heat, stirring constantly, until thickened and translucent. Crush some of the blueberries as they cook.
Remove from heat and add remaining sugar and blueberries. Cool. Spread over cream cheese filling and fill.
Blueberry Fruit Shake

Ingredients:

2 cups frozen blueberries
1 cup frozen mixed fruit
(including cantaloupe, honeydew, grapes, peaches, etc.)
1 cup milk
1 tablespoon sugar
2 teaspoons vanilla extract

In the container of a food processor or blender, place blueberries, mixed fruit, milk, sugar and vanilla extract; whirl until smooth. Serve immediately.

Yield: 2 to 3 portions, about 2-1/2 cups.

Blueberry Blast

Ingredients:

1/2 cup cranberry juice cocktail
2 (6-ounce) containers low-fat blueberry yogurt
1 cup frozen, fresh or canned (drained) blueberries

In the container of a food processor or blender, place blueberries, mixed fruit, milk, sugar and vanilla extract; whirl until smooth. Serve immediately.

Yield: 2 to 3 portions, about 2-1/2 cups.

Blueberry Sangria

Ingredients:

1-1/2 cups ready-to-serve blueberry juice
1-1/2 cups chilled white wine or apple juice
1/4 cup orange-flavored liqueur, optional
1 orange, sliced
1 lemon, sliced
1 cup fresh blueberries
1-1/2 cups chilled lemon-lime soda, such as Sprite

Into a 2-quart pitcher, combine blueberry juice, wine and liqueur, if used. Add orange and lemon slices and fresh blueberries. Chill until ready to serve. Just before serving, stir in soda. Serve in tall glasses over ice cubes, if desired.

YIELD: 6 servings (about 1 quart liquid)

Blueberry-Watermelon Frosty

Ingredients:

1 container (6 ounces) frozen lemonade or limeade
concentrate, unthawed
2 cups fresh blueberries
2 cups watermelon cubes, seeds removed
1 cup ice cubes

In a blender container, combine lemonade concentrate, blueberries and watermelon. Purée until very smooth. Add ice cubes; blend until mixture is slushy. Add sugar, if needed.

YIELD: 4 portions (about 5 cups)

Pink Blueberry Lemonade

Ingredients:

1/3 cup sugar
1-1/4 cups fresh blueberries, divided
1/3 cup lemon juice

In 1 quart glass measuring cup, combine sugar, 2 tablespoons of the blueberries and 1/2 cup water. Microwave on high until hot, about 1 minute; stir until sugar dissolves. Add lemon juice and enough water to make 1 quart; chill. Fill tall glasses with ice cubes, add chilled blueberry mixture and remaining berries, dividing equally. Garnish with lemon slices if desired.

To make Blueberry ice cubes: Place 3 berries in each of 12 ice cube cups. Fill with water and freeze. 36 berries equals about 1/4 cup.

Yield: 1 quart (4 one-cup servings)

Blueberry Ginger Sauce

Ingredients:

In a large saucepan, combine 2 cups fresh blueberries, 1/4 cup sugar, 1 tablespoon cornstarch and 1 tablespoon finely chopped crystalized ginger or 1/2 teaspoon dried ground ginger; stir in 1/3 cup water. Over medium-high heat, bring to a boil; cook and stir until sauce thickens, about 1 minute.

Per 1/4 cup: 68 calories, 17 g carbohydrate, 0 fat

YIELD: 1-1/2 cups

Blueberry Breakfast Bake

Ingredients:

1 loaf (14 ounces) sliced, firm textured white bread,
crusts removed, divided
2 cups fresh or frozen blueberries, divided
4 ounces light cream cheese
(from an 8-ounce package), cut in 1/4-inch cubes
8 eggs, beaten
1-1/2 cups lowfat milk
1/4 cup maple syrup
1/4 cup melted butter

Preheat oven to 350°F. Remove crusts from bread; cut in 1-inch cubes (makes about 10 cups). Cut cream cheese in small cubes (makes about 1 cup). Grease 9-x-9-2-inch baking dish. Place half of the bread cubes in the dish. Scatter cream cheese cubes and 1 cup of blueberries over the bread. Top with remaining bread cubes and blueberries. In a bowl, combine eggs, milk, maple syrup and butter. Carefully pour over bread mixture. Bake until a knife inserted in the center comes out clean, about 1 hour, covering with aluminum foil if edges brown too much. To serve, cut in squares. Accompany with additional maple syrup, if desired.

YIELD: 9 portions

Blueberry French Toast Sandwich

Ingredients:

1 package (3 ounces) cream cheese, softened
1-1/2 tablesoons confectioners' sugar
1 package (about 12 ounces) frozen French Toast (6 slices)
3/4 cup fresh blueberries

In bowl, stir together cream cheese and confectioners' sugar. Heat French toast as package directs. Spread cream cheese mixture on French toast slices. Spoon blueberries over cream cheese on 3 slices; cover with remaining slices. To serve: Place sandwiches on plates; cut diagonally. Garnish with additional blueberries and confectioners' sugar. This recipe may be doubled.

YIELD: 3 servings

Fluffy Blueberry Pancakes
U.S. Highbush Blueberry Council

Ingredients:

1-1/2 cups part-skim ricotta cheese or drained small-curd cottage cheese
1/4 cup butter, melted
4 egg yolks
1/2 cup flour
1/4 cup sugar
2 teaspoons grated lemon peel (yellow part only)
8 egg whites
2 cups fresh blueberries

In a medium-sized bowl, combine ricotta, butter and egg yolks until blended. In a small bowl, stir together flour, sugar and lemon peel. Stir dry ingredients into ricotta mixture. In a medium-sized bowl, beat egg whites until they form soft peaks. Fold egg whites and then blueberries into batter. Over medium heat, form cakes by spooning 1/4 cup of batter per pancake onto a hot lightly greased griddle or skillet. Cook cakes, turning once, until browned, about 4 minutes. Serve with Blueberry Ginger Sauce.

Per portion: 314 calories, 26 g carbohydrate, 16.6 g total fat, 9 g saturated fat

YIELD: 6 portions (24 pancakes)

Blueberry-Filled Dutch Pancake

Ingredients:

2 tablespoons butter, softened
6 large eggs
1 cup lowfat milk
2/3 cup flour
1/3 cup sugar
1/2 teaspoon salt
1/2 teaspoon vanilla extract
1 package (4.4 ounces) fresh blueberries (about 1 cup)
1/4 cup light corn syrup

Preheat oven to 425°F. In a 13 x 9-inch glass baking dish, evenly spread butter over bottom and sides. In a blender jar, combine eggs, milk, flour, sugar, salt, and vanilla; blend until smooth. Pour batter into baking dish; bake until pancake is golden brown and puffy, 20 to 25 minutes. Meanwhile, in a small skillet over medium heat, heat blueberries and corn syrup just until the first blueberry pops, about 2 minutes; remove from heat. Remove pancake from oven; pour blueberry syrup into the center of the pancake; cut into 6 pieces. Serve immediately.

Per portion: 270 calories, 37 g carbohydrate, 10 g total fat

YIELD: 6 portions

All-American Chicken Blueberry Salad Platter

Ingredients:

1/3 cup bottled vinaigrette dressing
1 tablespoon orange marmalade
1 tablespoon reduced fat mayonnaise
2 cups 1/2-inch cubes cooked chicken breast
2 cups blueberries
1/2 cup 1/2-inch cubes red bell pepper
2 small scallions, sliced (about 3 tablespoons)
Salt and ground black pepper
4 large slices whole grain country bread
4 slices (3/4-inch thick) iceberg lettuce (cut crosswise through center of head)
8 to 12 thin crosswise slices tomato

In a large bowl, combine vinaigrette, marmalade, and mayonnaise; set aside 2 tablespoons. Stir chicken, blueberries, red pepper, and scallions into remaining dressing in the bowl. Add salt and pepper to taste. Place one slice toast on each of 4 dinner plates; divide salad onto toast. Arrange lettuce and tomatoes beside sandwich and drizzle with reserved dressing.

Per Portion: Calories 410; Protein 32 g; Carbohydrate 36 g: Fat 16 g; Fiber 6 g; Calories from Fat 34%

YIELD: 4 portions

Blueberry Balsamic Vinegar and Blueberry Vinaigrette

Ingredients:

4 cups fresh or frozen blueberries
1 quart white balsamic vinegar
1/4 cup sugar
Zest from 1 lime, green part only, in strips
1 (3-inch) cinnamon stick

In a large non-reactive saucepan with a potato masher or the back of a large spoon, crush blueberries. Add vinegar, sugar, lime zest and cinnamon; bring to a boil. Reduce heat and simmer, covered, 20 minutes. Cool slightly; pour into a large bowl. Cover and refrigerate for 2 days to allowe flavors to blend. Place a strainer over a large bowl. In batches, ladle blueberry mixture into strainer; with a large spoon, press out as much liquid as possible; discard solids. Pour vinegar into clean glass bottles or jars. Refrigerate, tightly covered, until ready to use. Use in a favorite salad dressing recipe or the following vinaigrette.

YIELD: approximately 5-1/2 cups

Blueberry Vinaigrette

Ingredients:

1/4 cup olive oil
3 tablespoons Blueberry Balsamic Vinegar
1/2 teaspoon salt
1/8 teaspoon groud black pepper

In a cup, combine olive oil, Blueberry Balsamic Vinegar, salt and pepper. Serve on salad greens tossed with fresh or dried blueberries.

YIELD: about 1/2 cup

All-American Chicken And Blueberry Sandwich

Ingredients:

1/3 cup bottled vinaigrette dressing
1 tablespoon orange maramalade
1 tablespoon reduced fat mayonnaise
2 cups 1/2-inch cubes cooked chicken breast
2 cups blueberries
1/2 cup 1/2-inch cubes red bell pepper
2 small scallions, sliced (about 3 tablespoons)
Salt and ground black pepper
4 large slices whole grain country bread
4 slices (3/4-inch thick) iceberg lettuce (cut crosswise through center of head)
8 to 12 thin crosswise slices tomato

In a large bowl, combine vinaigrette, marmalade, and mayonnaise; set aside 2 tablespoons. Stir chicken, blueberries, red pepper, and scallions into remaining dressing in the bowl. Add salt and pepper to taste. Place one slice toast on each of 4 dinner plates; divide salad onto toast. Arrange lettuce and tomatoes beside sandwich and drizzle with reserved dressing.

YIELD: 4 servings

All-American No-Bake Blueberry Pie

Ingredients:

1 package (3 ounces) raspberry- or strawberry-flavored gelatin
2-1/2 cups fresh or frozen blueberries* (about 12 ounces), divided
1 ready-to-use 9-inch graham cracker pie crust (6 ounces)
1 cup whipped cream or nondairy whipped topping

Prepare gelatin according to package directions. Refrigerate until gelatin mounds when dropped from spoon and is almost set, about 2 hours. Stir to gently break up gelatin; stir in 2 cups of the blueberries. Spoon into pie crust; cover and refrigerate until set, 3 to 4 hours. To serve: Top pie with whipped cream** dolloped with a spoon or piped with a decorative star tip. Decorate pie with remaining blueberries.

*If using frozen blueberries, thaw and drain well before adding to the gelatin.

YIELD: 8 portions

Blueberry-Apple Crisp

Ingredients:

1 cup old-fashioned oats
1/2 cup flour, divided
1/2 cup sugar, divided
1 teaspoon ground cinnamon
4 tablespoons butter, cut in small pieces
1/4 cup pecans or walnuts, coarsely chopped
1 bag (12 to 16 ounces) frozen blueberries
4 cups peeled and cubed apples or pears

Preheat oven to 375° F. Lightly grease a 2-quart baking dish. To prepare the topping: in a medium-sized bowl, combine oats, 1/4 cup of the flour, 1/4 cup of the sugar and the cinnamon. Add butter; between fingers rub butter with dry ingredients to form coarse crumbs, stir in pecans. In a large bowl, toss blueberries and apples with the remaining 1/4 cup sugar and 1/4 cup flour. Pour blueberry-apple mixture into prepared baking dish. Sprinkle the topping evenly over the fruit. Bake until apples are tender and topping is golden, about 50 minutes. Serve warm with vanilla ice cream or frozen yogurt, if desired.

*Alternatively, combine dry ingredients and butter in a food processor container. Pulse to form coarse crumbs.

YIELD: 6 portions

Blueberry Bread Pudding

Ingredients:

1 loaf (16 ounces) sliced, firm-textured white bread, crusts removed
2 cups fresh or frozen blueberries
4 ounces light cream cheese (from an 8-ounce package), cut in 1/4-inch cubes
4 eggs, lightly beaten
2 cups lowfat milk
1/4 cup sugar
1/4 teaspoon salt
1/4 teaspoon ground cinnamon

Butter an 8-inch square baking dish; set aside. Cut bread in 1/2-inch cubes (makes about 7 cups). In the prepared baking dish, layer half of the bread cubes and half the blueberries; sprinkle with all the cream cheese; cover with remaining bread cubes and blueberries. In a bowl, combine eggs, milk, sugar, salt and cinnamon; pour over bread. Gently press bread down to absorb milk mixture; refrigerate, covered, at least 20 minutes or overnight. Preheat oven to 325°F. Bake uncovered, until a knife inserted near the center comes out clean, about 1 hour; let stand 10 minutes before serving. Slice in 8 rectangles; serve with maple syrup, if desired.

Per serving: 268 calories, 11 g protein, 8 g fat, 37 g carbohydrate

YIELD: 8 portions

Blueberry Cobbler

Ingredients:

1 bag (1 pound) frozen blueberries (about 3- 1/2 cups)
1 tablespoon cornstarch
2 tablespoons lemon juice
1 cup all-purpose flour
3/4 cup turbinado (raw) sugar or granulated sugar, divided
1 teaspoon baking powder
1/4 teaspoon salt
1/2 cup milk
3 tablespoons butter, melted
3/4 cup boiling water

Preheat oven to 350 F. Spread blueberries in ungreased 8 or 9-inch square baking dish or pan. Sprinkle with cornstarch; drizzle with lemon juice; set aside. In medium bowl combine flour, 1/2 cup sugar, baking powder and salt. Add milk and butter; stir just until combined (not smooth.) Drop mounds of dough onto blueberries. Pour boiling water over dough and fruit. Sprinkle with remaining 1/4 cup sugar. Bake until biscuits are golden brown and blueberries are bubbly, 45 to 50 minutes. Serve warm or at room temperature.

YIELD: 8 portions

Blueberry Cream Pie

Ingredients:

4 ounces low-fat cream cheese, from an 8-ounce package, softened
1/2 cup low-fat sour cream
1/4 cup sugar
1-1/2 cups nondairy whipped topping, from an 8-ounce container
1 (8-inch) prepared graham cracker pie crust
2 cups fresh blueberries, divided

In a medium bowl, with an electric mixer, beat cream cheese, sour cream and sugar until well blended. Fold in whipped topping. Spoon half of the mixture into the pie crust; top with 1 cup of the blueberries. Spread remaining cheese mixture over the blueberries. Scatter the remaining 1 cup blueberries on top. Cover with plastic wrap, refrigerate until set, about 5 hours.

YIELD: 6 portions

Blueberry Upside-Down Cake

Ingredients:

2 cups frozen blueberries, not thawed
1/4 cup sugar
1 teaspoon cornstarch
1 package (6.5 or 7 ounces) muffin mix, any flavor
1 egg, lightly beaten
1/3 cup low-fat milk
1 container (6 ounces) fat-free blueberry yogurt

Preheat oven to 350ºF; spray an 8-inch round baking pan with vegetable cooking spray; set aside. Rinse blueberries with cold water and pat dry with paper towels. In a medium bowl, stir sugar with cornstarch; add blueberries, toss to coat well. Spread blueberries in the prepared pan. In a medium bowl, blend muffin mix, egg and milk until batter is slightly lumpy (do not over mix); gently spread batter over berries. Bake until center springs back when gently pressed, 25 to 30 minutes. Cool 5 minutes in pan; invert onto a cake plate. Serve cake wedges with yogurt.

Per serving: 230 calories; 41 g carbohydrate; 5 g total fat

Yield: 6 portions

Double Blueberry Pie

Ingredients:

1 frozen or homemade pie shell (9 inch)
1 jar (10 ounces) blueberry jam or fruit spread
1/4-teaspoon ground cinnamon
4 cups fresh blueberries
Sweetened whipped cream or vanilla ice cream (as needed)

Following package or recipe directions, prebake pie shell; cool. In a microwaveable dish, combine blueberry jam and cinnamon. Microwave on high until mixture liquefies, about 1minute. Stir in fresh blueberries. Spoon blueberry mixture into prepared shell. Chill. Serve with whipped cream or vanilla ice cream.

Per portion: 393 calories, 68 g carbohydrate, 12 g total fat, 3.3 g saturated fat

YIELD: 6 portions

Blueberry Honey Sauce

Ingredients:

1/2 cup honey
1/4 teaspoon ground ginger
1 cup fresh blueberries
2 tablespoons fresh lemon juice

In a small saucepan, combine honey and ginger; bring to a boil. Stir in blueberries; return to a boil. Remove from heat; stir in lemon juice. Transfer mixture to a blender container and whirl until smooth. Serve over Blueberry-Lemon Charlotte or spoon over cut-up fruits.

Per 1-tablespoon portion: 38 calories, 0 g protein, 0 g fat, 10 g carbohydrate

Yield: 1 cup

Blueberry Maple Syrup

Ingredients:

2 cups frozen or fresh blueberries
3/4 cup maple or pancake syrup
1 teaspoon grated orange peel
1 tablespoon cornstarch

In a small saucepan combine blueberries, maple syrup and orange peel. In a small cup dissolve cornstarch in 2 tablespoons water; add to blueberry mixture. Cook, stirring constantly, until mixture boils; reduce heat and simmer until mixture thickens, about 1 minute. Serve warm over pancakes, French toast and waffles.

Yield: about 2 cups

Creamy Blueberry Dip

Ingredients:

2 cups fresh or frozen, thawed blueberries
1/3 cup light cream cheese (from an 8-ounce tub)
1 tablespoon apricot preserves

In the container of a food processor or blender, place blueberries, cream cheese and apricot preserves; whirl until smooth. Serve with sliced fruit or use as a dessert sauce spooned over cut-up fruit, if desired.

Per 1/4 portion: 49 calories, 1 gram protein, 2 grams fat, 6 grams carbohydrate, 48 mg sodium, 34 mg potassium, 8 mg cholesterol

Yield: about 2 cups

Homemade Blueberry Jam

Ingredients:

6-1/2 cups fresh blueberries, coarsely chopped (about 5 pints whole blueberries)*
1 package (1.75 ounces) granulated fruit pectin for lower sugar recipes
4-1/2 cups sugar, divided
1 tablespoon ground ginger or 2 teaspoons
finely grated orange rind, optional

Here's all the flavor of old-fashioned jam without the bother of boiling jars and processing the finished product, because you keep it in the freezer.

In a large saucepan, combine blueberries and 1/2 cup water. In a small bowl, stir together pectin and 1/4 cup of the sugar. Stir pectin mixture into blueberries. Over high heat, stirring constantly, bring mixture to a rolling boil. Add the remaining 4-1/4 cups sugar all at once; return to a rolling boil. Boil exactly 1 minute, stirring constantly; remove from heat; skim off any foam; set aside until cool enough to handle, about 30 minutes. Transfer to 1-cup freezer containers, filling to about 1/2 inch from the top; continue to cool at room temperature until jam has set; cover and freeze. Thaw to serve; store any leftover jam in the refrigerator for up to 0one month.

* Place whole blueberries in a food processor container; pulse until coarsely chopped. Or, place blueberries in a bowl; crush with a potato masher or pastry blender.

YIELD: about 9 cups