Visiting Our Farms
Season Schedule (Open to public only from June - July)
Our Texas location is open starting around the first of June until the end of July. The public is welcome to come by and purchase fresh blueberries. Please check back closer to harvest for days and times. We will post pertinent information in the recent news.
What to Expect
At our Texas Farm we offer YOU-PICK or pre-picked, concessions, blueberry products for sale, and group tours. Visitors can enjoy a cup of cold homemade blueberry lemonade or blueberry sweet tea.. We offer a variety of blueberry products for purchase as well.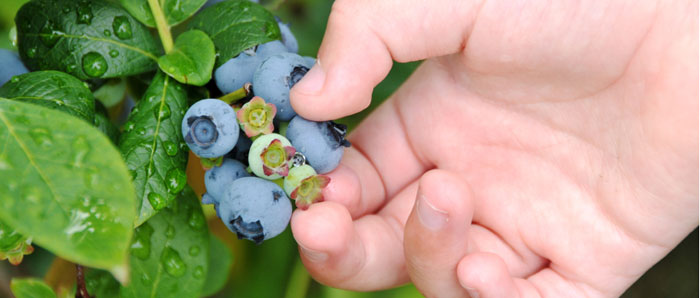 We have a shaded picnic area to sit and enjoy the beautiful countryside. Clean restrooms are also available for your convenience. Church groups and daycare groups are always welcome and we offer a reasonably priced package deal for groups of children. Hours of operation are 8 am – 3 pm, Monday – Saturday.
Blueberry plants don't offer any shade from the hot summer sun, so bring sunscreen, umbrellas, or caps for the little ones.
For those choosing to purchase our PRE-PICKED BERRIES, we offer pint-size containers and/or flats. All pre-picked berries are fresh and have been graded.
---
Directions
Use the interactive map below to create customized driving directions from where you are to the berries you desire.
Texas Farm (Open to public only from June - July)
194 CR 3221 Deberry, TX 75639